Understanding Your Audience: The Consumer Path
As a top digital marketing agency, CCH Marketing takes unprecedented measures in understanding our clients' target audiences through inventive means of demographic research coupled with a Consumer Path model that we've developed in-house. Using this exclusive Consumer Path model, we better understand a client's specific audience, purchaser needs, trends, and conversion attribution.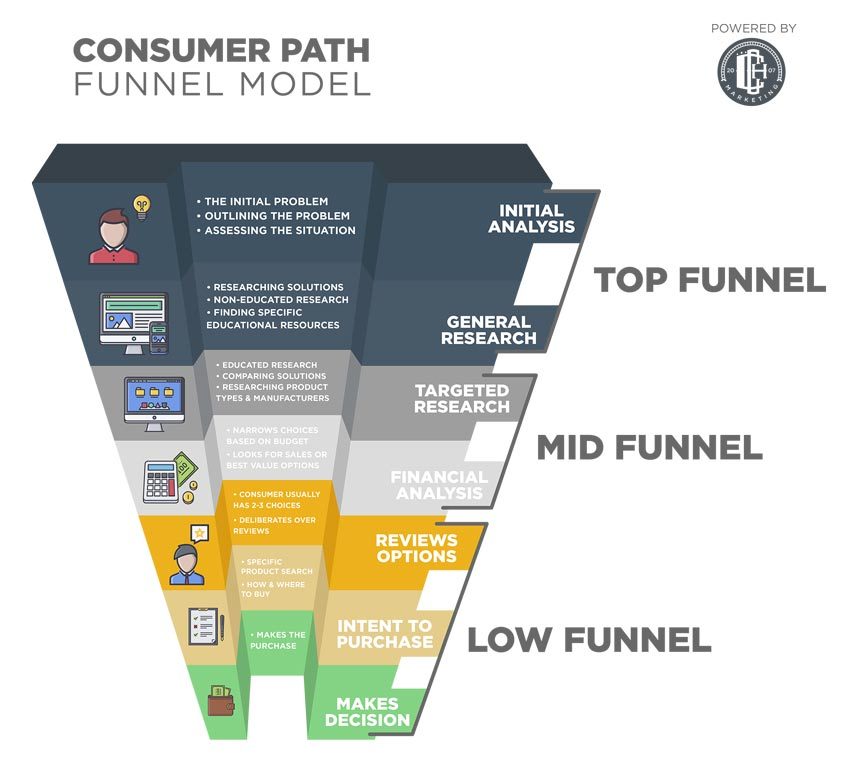 By design, we've coupled our Consumer Path model with industry-specific marketing funnel methods. This allows us to pinpoint where our targeted audiences enter the marketing stream, thus contributing value points to our conversion attribution system. Implementing this system has given us the unique ability to plan and develop a strategy that is not only fully evolved, but catered to each client's audience – which, in turn, gives them better results, more purchases and conversions, as well as an edge over their competitors.
It's important to note that this process does take a decent amount of commitment. Within the first three months of mapping this model, the process yielded little in return, but after months of inputting data, we were able to determine consumer trends, pinpoint consumer path levels and their relation to keywords, ad copy and landing pages. So, what does it take to understand the consumer path to purchases and conversions?
First, it's crucial to build digital campaigns to the specifics of this model so that your determined formatting can be applied to all data being measured during the life of your campaign.
Second, you need to map the 7 Step Consumer Path to get a better understanding of the stream. Clues like keywords searched, questions asked, pages and products viewed paint a picture of which section of the path a consumer was influenced to buy or convert.
Third, it's important to have tracking abilities attached to landing pages to track conversions. This is the key metric for conversion attribution.


The importance of this data is to help you, as a marketer, become better at understanding which areas of your funnel are working and driving conversions. There's also value in knowing which areas of the funnel are not working and not driving conversions. All of this information can help you better optimize and situate ad dollars to work with, rather than against, your ad campaign.